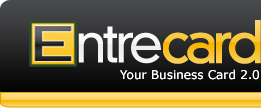 For Sale
I just discovered that Graham from Entrecard is listing his site for sale. Now Entrecard and all blogger community that comes with it can be yours or mine. The site is listed here on Sitepoint. It just get listed on Thu Sep 25 2008.
According to the Info displayed this company serves over 80 million impressions to its ads monthly. The site is generating $2,000 monthly from the sales of ads on the site itself, not across the network. Believe it or not but this site it is only making those $2,000 per month and serving 80,000,000+impressions, but thats the info Entrecard uploaded to Sitepoint for the auction. Maybe this could be the reason that Graham wanted to sell. Its amazing how young it is Entrecard it has been established on Tue Nov 06 2007 not even a year and they are already PR 5.
But you got to see the bidders, one of them said:
is this a goddamn therapy or website auction?
Strangest auction I have ever seen, the bidders were tell him to keep the site and continue with it until it hit hard on the revenue.
But if you went there already to buy it, I am deeply sorry to tell you that all the bidders seems they convince Graham or whoever was the Seller to put aside the sale.
Achieving an mcdba certification in network plus is certainly the apogee. However those who cannot get into microsoft training often opt for cisco training instead.
Strange auction, Bidders telling the Seller Not to sale. But at least we can continue droping without wondering wich it is going to be our future as a dropers.
Graham please do not do that again, do not give up on us, I just started to love Entrecard and you want it to sell. Dropers from Entrecard we may need in the future give this guys more support and if they still want to sell, by then maybe I will have enough money to Buy (I almost can hear you telling me "dream on", you maybe right but what the heck, its my Dream).
Did you think this was a real auction or someone else were just faking it? We may need to ask Graham itself.
To your Success,
Luis Torres
www.marketing-business-review.com
If you like the Free Info in this Post, please consider to buy me a coffee