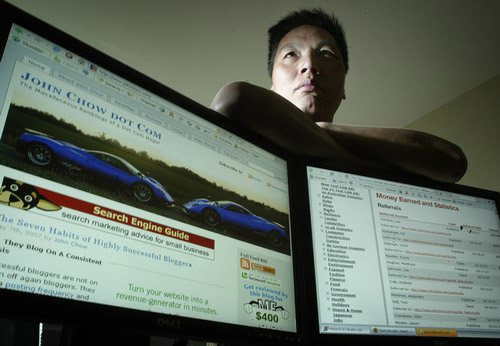 First of all, is John Chow relevant with his own name? Well I think that is easy to answer, Am I not relevant to my own name? I hope I am relevant to my own name, at least was what I thought yesterday and all the days before that, but I better ask Google, I may had lost my name without knowing it or maybe they already did to me a little handy work like they apparently did with John Chow´s name.
John Chow is an expert blogger when in comes to making money online! He shows people some "evil" methods of making money online. John Chow is the founder of The Tech Zone, a site for tech reviews, news and articles. He is also a well known and widely respected marketer who began blogging with no intention to make money. He very quickly gained a lot of readers and daily traffic which inevitably led the idea of monetizing his blog. John Chow is even willing to share the wealth a bit with those who wroted reviews of his John Chow Dot Com Blog. He used to post the name of the reviewers blog and more importantly link to the reviewers blog. John Chow is no where on page one, since Google slap him in a more personal way than they do with the rest of us.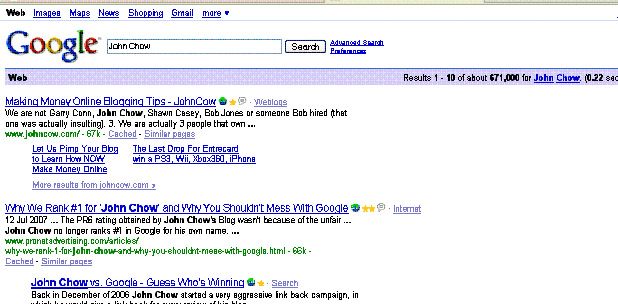 John Chow Key Words Search at the time of this post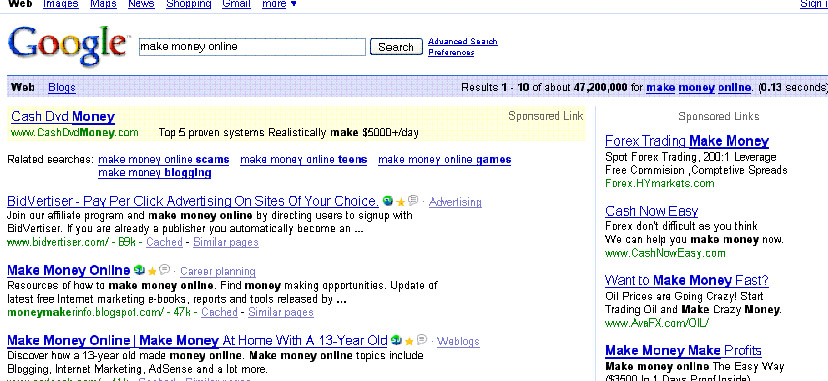 Make Money Online Key Words Search at the time of this post
Evil doings
John used his link back campaign to rank for terms for which his site is very relevant. He is actually helping Google's results become more valuable because his is providing information that people searching for his keywords are actually looking for. He managed to get 870 links from various sites as a direct result of the campaign. This turned out to be very successful for him as in just two months from the beginning of the campaign his revenue has almost trippled
John Chow´s blog has grown to 27,415 subscribers (at the time of this post) so there is no way his traffic has decreased since the start of the year, I have no doubt that his traffic has increased.
His whole top right section is just ads and it really doesn't seem to affect the user experience on that blog. His new design is really nice too and the ads are blended well. John has been one of the first bloggers to become a cult-symbol with a status comparable to what paparazzi-hunted celebrities experience. John has been posting daily to his blog for almost a year by then. And with all the link love coming in, search engines started ranking many of John's posts pretty well.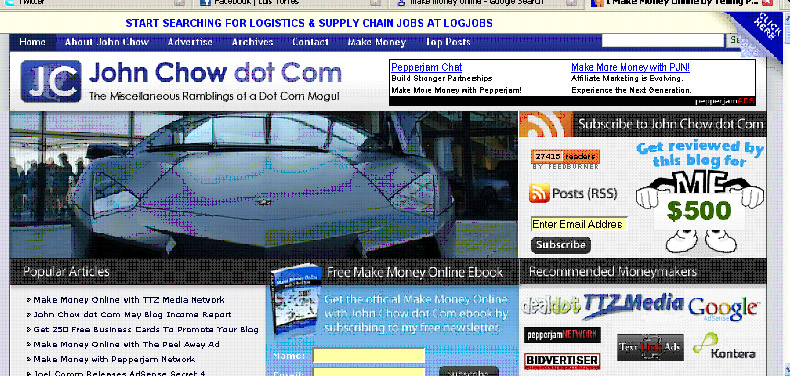 John Chow Site as it is Today
That "review me and I'll post a link back to your blog" has actually backfired, but why? did you really think that Google or any of the internet giants, haven't done something similar in their own humble beginnings? What is the difference between having unsolicited back links from people that you don't even know and just talk out loud "link me and I link back at you" like we all do at Twitter?
I couldn't be more agreed with Google If the key words used weren't relevant at all to your site, but "Make Money Online" key words couldn't be more relevant to John Chow´s Blog. All the blog it´s about making money online, just check it out for yourself. But now Google seems not to be very relevant since the removal of these key words "John Chow and Make Money Online" from Google search, at least from the first page.
So what was the mistake of John Chow, I guess it was to Speak it out loud, so Google feel the need to make a Mobs-like public execution to quiet down his followers and avoid a mass rebellion. I do not think Google want it to penalize so hard JC, since if they really thought that those evil linkings were so bad, then why they did not did anything about it earlier, why they wait for so long to penalize him, could it be that they were making money online from John Chow´s blog itself with adsense? I guess we will never know for sure, but that is a little mysterious, don't you think?
In fact, his attempts at gaming the systems have gotten him banned from Digg and Technorati not just from Google.
So what did you think? Is John Chow "The Root of All Evil" or just a "Google´s Patsy" thanks to leave your comments.
To Your Success,
Luis Torres
www.MarketingBusinessReview.com
If you like the Free Info in this Post, please consider to buy me a coffee