If you already have Roboform the Free version then you cannot let it pass this great deal from Roboform, they have a Black Friday Deal for Roboform Pro a full 33% discount, even Roboform to Go have a 20 dlls discount off the regular 39.95.
In the screenshot below you can see the regular price before the discount, DO NOT HIT THE "CONTINUE" BUTTON BEFORE USING THIS DISCOUNT CODE " BLACK" WITHOUT "" AND HIT THE "UPDATE TOTAL" BUTTON BEFORE HITTING "CONTINUE".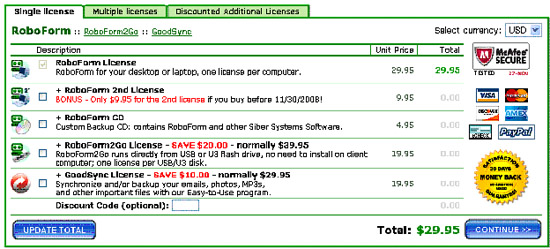 After hitting the "Update Total" button you will see something like the next screenshot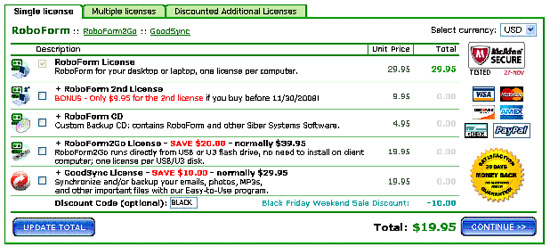 In case you want as well the Roboform to Go just check the box and you will see the next screenshot, do not hit "Continue" yet.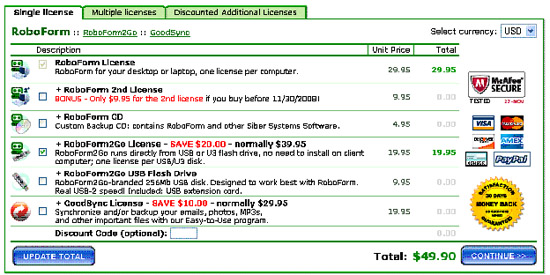 Use the same code as before " BLACK " without "", and then hit "Update Total" then you will be able to see the following screenshot: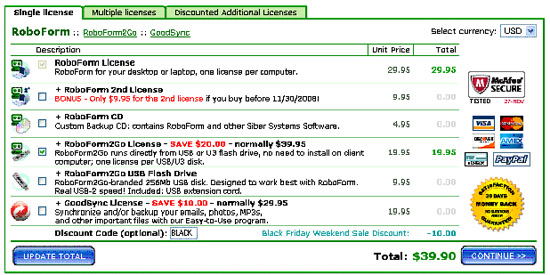 That´s the price for both Roboform Pro and Roboform2Go for 1 single license. The only Catch is that those prices will be there until Nov /30 /2008, so if you want to upgrade this is your best shot with the best value for us or download the free version if you dont have Roboform and then ugrade if you like it but before Nov 30, 2008 to get this Black Friday Deal.
If you dont know what is Roboform or what benefits you will get with this tool then go here to read all about it in this post inside of MBR dot Com , If you have any more questions about it feel free to leave a comment and I will help you.
Is this a Good Bargain? What did you think Robofrom should offer as a Black Friday Deal?
To your Success,
Luis Torres
www.marketing-business-review.com
If you like the Free Info in this Post, please consider to buy me a coffee