There is a new free tool SEOToolbar from SEOBook that retrieves the PR of any site faster than the PR checker from the Google Toolbar itself.
If you have been trying to check your links at Website Grader, then you maybe had felt frustrated like myself, since this message will show every time you check for your site:
We are temporarily not counting inbound links in the score. This is an important metric, and we are working on this issue.
Now I just found that SEOToolbar from SEOBook has already build in a Tool called SEO XRay that works pretty fast and you can see your links in few seconds.
As you may know, your website's ranking on search engines is a vital element of your overall marketing campaign, and there are ways to improve your link popularity through legitimate methods. Unfortunately, the Internet is populated by hordes of dishonest webmasters (Of course not me, and obviously you neither) seeking to improve their link popularity by faking out search engines.
This tools wil help you to monitor and even compare sites like I did with my Make Money Online site (the one you are reading in case you wonder) against John Chow dot Com, here is the screen shot of my comparison: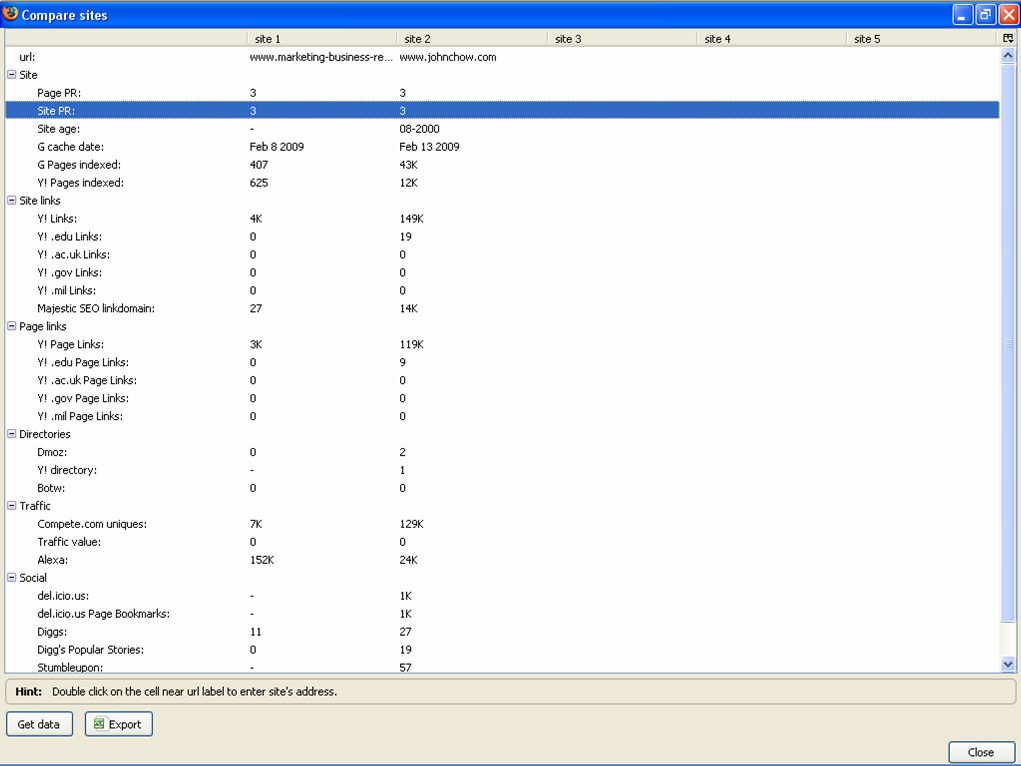 It seems he beats me with some few more pageviews and with some other ranks, but wait!, I have a higher ranking, can you see it, I beat him, I have a higher Alexa ranking, but oh no! wait again, the smaller the number in Alexa the better, damn he beat me in that too. But wait for the next time, I may beat him, I will need to monitor my site stats with this tool often, then I´ll be able to know if my efforts in link building are really paying off.
Since Link popularity is mostly based on the quality of sites you are linked to. I will be very aware of any suspicious site. As you know Google pioneered this criteria for assigning website ranking, and virtually all search engines on the Internet now use it. There are legitimate ways to go about increasing your link popularity. Google frequently imposes penalties on sites that have linked to other sites solely for the purpose of artificially boosting their link popularity. They have actually labeled these links "bad neighborhoods."
The first thing to check out is whether or not the pages you have linked to have been penalized. The most direct way to do this is to check the PR, you can do it with the SEO Toolbar instead of the Google Toolbar. You will then see that most pages are given a "Pagerank" which is represented by a sliding green scale on the toolbar.
Do not link to any site that shows no green at all on the scale. This is especially important when the scale is completely gray. It is more than likely that these pages have been penalized or they are quite new.
By comparing you can actually see how good are you doing it with your SEO efforts and also see if the data from SEO Toolbar looks weird, then better do not go to that site.
Just as you must be diligent in increasing your link popularity and your ranking, you must be equally diligent to avoid being unfairly penalized. So be sure to monitor your site closely and avoid any appearance of artificially boosting your rankings.
To Your Success,
Luis Torres
www.marketing-business-review.com
If you like the Free Info in this Post, please consider to buy me a coffee